To get the most out of your investment
Our customers benefit from Service and Technical Support services that extend beyond geographical boundaries and time zones. Leica Geosystems AG's "Active Customer Care" program includes support packages to suit your needs, whether you use the simplest distance meter or the most sophisticated integrated solution. "Active Customer Care" is a true partnership - it is our commitment to continue to provide that level of Support and Collaboration you expect when you trust us.
The benefits of support contracts at a glance:
Problematic use of the equipment and minimal maintenance-repair delay
Instant update on new features and free software upgrade
An open line of communication throughout the term of the contract
Extension of the guarantee (depending on the type of contract)
Discounts on repairs and spare parts
Free shipping of your equipment after maintenance or repair (depending on the type of contract)
Attend training seminars (when they are held)
Συμβόλαια Leica Geosystems Support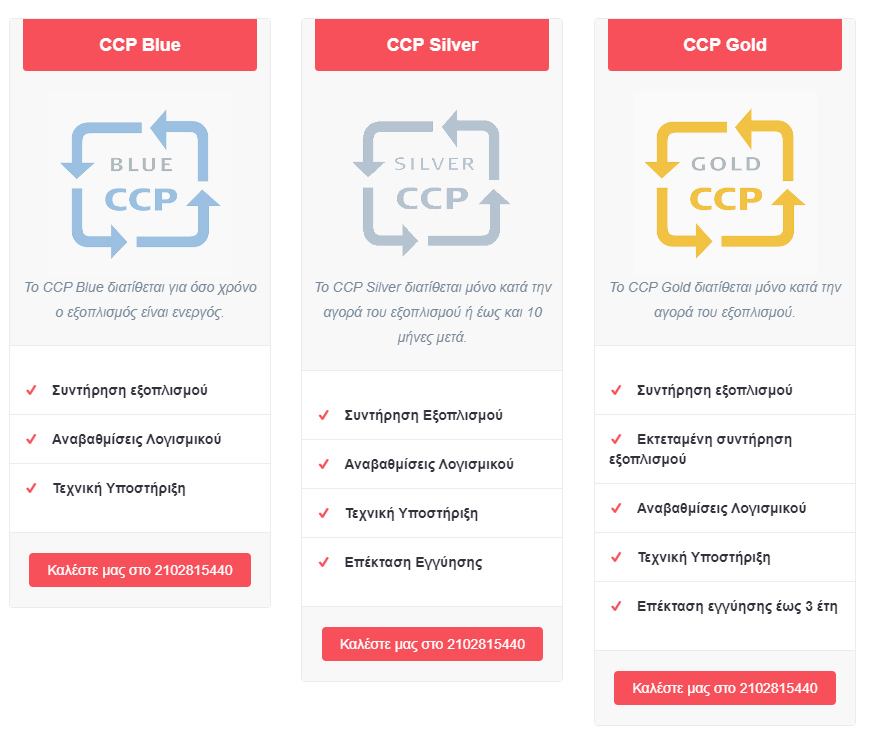 Detailed description of the services listed in the CCP:
Regular Equipment Maintenance:Regular annual maintenance is carried out by specialized technicians trained in the technical laboratory of Leica Geosystems AG in Switzerland with a long experience. The maintenance and inspection certificate provided ensures the optimum performance of your equipment. Complete protocol is maintained during the annual maintenance, all necessary adjustments and controls are made (lubrication, replacement of damaged parts, etc.).
Extended Equipment Maintenance: For greater "peace of mind" Leica Geosystems AG recommends extensive equipment maintenance every 3 years. This includes yearly maintenance with the certificate of inspection and ADDITIONAL full maintenance (includes replacement of worn parts, reconditioning etc.).
Software update: It ensures that you keep up-to-date with the latest versions of applications firmware for maximum productivity.
Technical assistance: Phone access to experienced, trained professionals who will work with you to solve any problem that arises using modern methods and tactics. This service can be used for troubleshooting, equipment configuration and general advice.
Warranty Extension: All Leica Geosystems AG topographic equipment is provided with a one year warranty. This warranty can be extended up to a maximum of 3 years. Work and spare parts are fully covered.
Support Contracts METRICA
The METRICA support contracts are designed to fully meet the daily needs of both SmartNet Greece users and all users of Leica Geosystems AG's GNSS GPS stations or GPS receivers who wish to have full support at every stage of their business.
In summary, with the selection of specific technical support packages, users
They have immediate support when they need it.
They receive tips and guidance on resolving technical issues
They receive all software upgrades
They can check that their equipment is functioning for FREE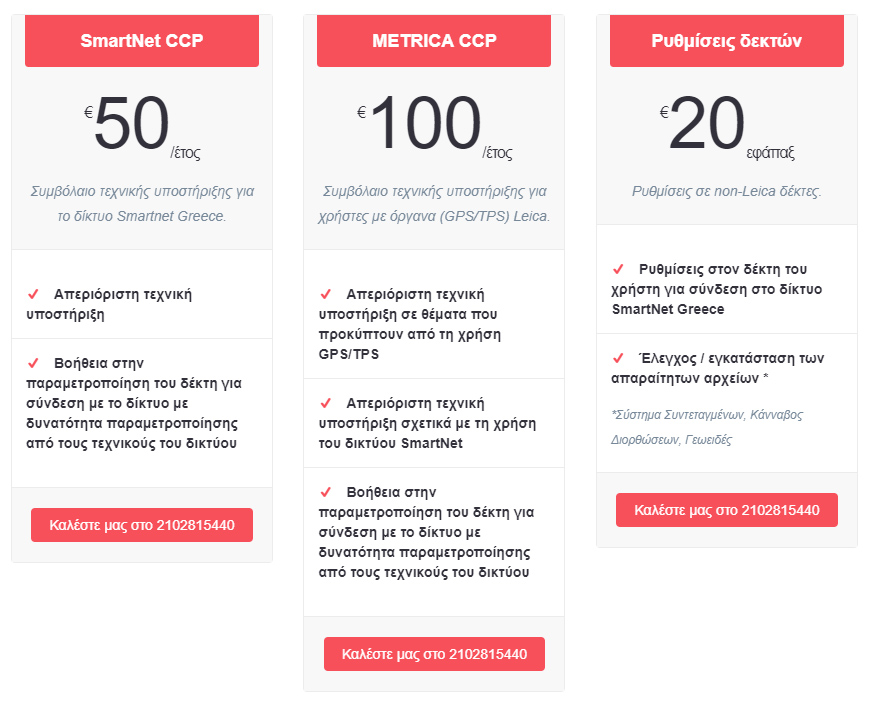 Detailed description of the services listed in the METRICA Support Contracts
Settings on non-Leica receivers: Create settings for the receiver to connect to the SmartNet Greece network and check / install the necessary files for any available receivers (Coordinate System, Cannabis Correction, Geoid). Arrangements are made by technical staff at METRICA offices. Otherwise the user should contact the company that purchased the receiver or consult the posted instructions in the "Frequently Asked Questions" section. Receiver settings are not made by phone.
SmartNet CCP: Annual network technical support contract for all users.
Metrica CCP: Annual technical support contract for instrument users (GPS / TPS) Leica Geosystems AG. It includes support for issues arising from the use of equipment such as instructions for downloading data, LGO software support, and more. as well as being included in the SmartNet CCP.
FREE services:
Free Technical Support via e-mail for all users. Send requests to the email address This email address is being protected from spambots. You need JavaScript enabled to view it.. Service within 24 hours.
Free update on network status by region.